I have been a naughty blogger, haven't I? No real excuse, apart from running around after Little Miss A, trying to keep the house (and Mr A!) in order, re-writing my CV so as to tailor it to specific jobs, the annual madness that is Wimbledon (c'mon Murray!!!) and LOTS of crafty stuff!
On the knitting front, I've managed to complete three pairs of socks:
Peppermint Kiilas for the SKA June Mystery challenge on Ravelry
Yarn: Knitting Goddess 4 ply Merino / Tencel in Peppermint
Needles: 2.5mm dpns

One pair of Baudelaires (on the left) and one pair of Monkeys (at last!)
Baudelaires
Yarn used: Socks that Rock Lightweight in Incredible Shrinking Violet
Needles: 2.75mm
Monkeys
Yarn used: Artyarns Supermernio
Needles: 2.75mm
The Baudelaires are going to my sister - the colours are perfect for her. The Monkeys were going to be for me, but they have come out just a bit too short, so they are going to my mad friend Claire, who is doing three sponsored swims for various cancer charities over the summer - including one in the Docklands - brrr!
I have also started my first pair of socks from Wendy Johnson's fabulous book - these are Diagonal Lace, using the amazing LuxeSock from Crazy4Dyeing - this has a mix of merino and nylon, with just a touch of cashmere - oh my lord, sooo soft! And this particular colourway (Tickle) is just stunning - these socks aren't going on anyone's feet but mine!

I have actually finished the first sock, and started on the second, where I am making a 'design decision' and mirroring the pattern so that when both socks are on the eyelets will go in different directions.
I'm also making good progress on Little Miss A's tunic dress - yes, I am finally making use of the Babylonglegs Merino that I bought so long ago (it's only taken me 4 patterns to find the right one!).
And last but not least, I have also started my first lace project, using some amazing handspun in greens, blues and purples from the lovely Otiva -
I won't be showing you any more than this, as it's actually supposed to be a 'secret' (i.e. Christmas!) project.........yes, I'm starting early this year, partly because I have a long list of people to make things for, and I'm determined that every single one of them will get something handmade - am I certifiably insane?
I've also been busy on the sewing front. Two (or was it three?) weeks ago, I got a total of five bags out of the two 1.5m lengths of fabric - and they have all gone! I obviously hit the nail on the head by 'going over to the dark side' with these!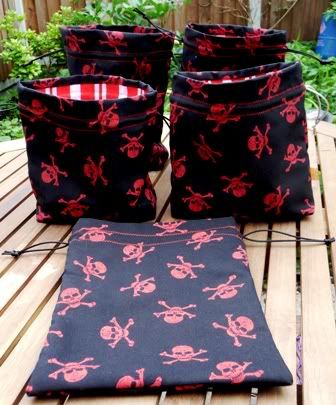 The shop also had a little update last week with a real mixed bag ('scuse the pun!) of colours and sizes
I also finally had a go at doing something I've wanted to try for a while - pretty, beaded charm bracelets - I'm really pleased with how this came out, and can see many more in the future!